About Us
VISIT NORTHWEST OHIO AND TASTE TRULY DELICIOUS WINE.
Our family-run winery in beautiful Bryan, Ohio is open year-round. We offer a number of seasonal dry and sweet varieties — all produced right on our land. 
Current Hours: January through April: Open Wednesday & Thursday 12pm to 7pm and Friday & Saturday 12pm to 9pm (kitchen open Fri & Sat 4-8:30).  May through September: we are open Wednesday 11am to 7pm, Thursday 11am to 8pm (kitchen open Thurs. 4-7:30), Friday 11am-9pm (kitchen open Fri. 4-8:30), and Saturday 11am to 9pm (kitchen open Sat. 12-noon to 8:30pm). October through December: we are open Wednesday & Thursday 11am to 7pm, Friday 11am-9pm (kitchen open Fri. 4-8:30), and Saturday 11am to 9pm (kitchen open Sat. 12-noon to 8:30pm).
For over 20 years, Stoney Ridge Winery has welcomed friends and visitors to make lasting memories in our inviting country winery and vineyard. Tucked away in the very northwestern region of Ohio, our little hidden gem is located near US Highway 127, making us the perfect destination for a weekend escape.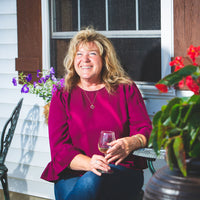 Meet the Owner, Pamela Ledyard-Bard
Your visit to Stoney Ridge wouldn't be possible without winery owner, Pamela Ledyard-Bard. From the beginning, Pam knew that Stoney Ridge Winery would be a family endeavor. With the assistance of her oldest son, Ryan, and daughter-in-law, Abby, Pam has taken her enthusiasm for gardening, growing, and spending time outdoors to create a friendly and inviting winery experience for every guest. Formerly an established real estate agent, Pam left the business to pursue her new passion. Stoney Ridge opened its doors in 2002, and the rest is history!
Meet the Winemaker, Ryan Towne
Every wine produced and served at Stoney Ridge is hand-crafted by Pam's oldest son Ryan Towne. A construction expert by trade, Ryan was integral to the winery's original beginnings, working to construct the winery and building, and planting the vineyard. He took a hiatus to work construction in Cleveland, Ohio, where he lived for many years and met his wife, Abby. The couple moved back to Bryan, Ohio in 2011, and today Ryan's creative and innovative winemaking style makes him an important voice in the field. With the guidance of the Enology and Agriculture specialists of The Ohio State University Extension, he has made a name for himself in viticulture.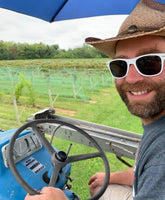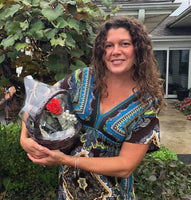 Meet the Manager, Abby Towne
Originally from the Cleveland, Ohio area, Abby Towne moved to Bryan, Ohio to be with her husband, Ryan, and help with the family business. With a background also in real estate, Abby's customer service and people skills allow her to be an exceptional manager, overseeing event planning, scheduling, and marketing. If you're planning a trip to Stoney Ridge, Abby will ensure you have everything you need for a memorable visit.
Experience the Magic
At Stoney Ridge, we can accommodate both public and private events with personalized indoor and outdoor experiences. Explore our 13-acre vineyard, complete with a scenic pond and woods, and learn more about how our delicious wines are made. Be enchanted by our rustic and country-contemporary indoor facility, which includes a cozy fieldstone fireplace, and a newly-renovated tasting room and cocktail bar.
We look forward to seeing you at Stoney Ridge!
-Pam, Ryan, & Abby